Gordon Campbell on ministerial transparency, presidential lies (and Bob Dylan)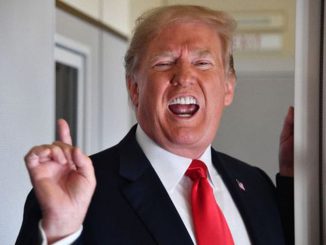 Minister gets inadequate advice from departmental officials, gets caught out. That's embarrassing, but hardly of lasting impact, given that the person most affected by the new information – the Czech convict and whistle blower Karel Sroubek – remains in jail. Meaning: there is plenty of time for Immigration Minister Iain Lees-Galloway to revisit his initial decision about how Sroubek should be treated, post-release.
Apparently, Lees-Galloway had been concerned that Sroubek's life could have been at risk should he be deported back to the Czech Republic. The new revelation that Sroubek had actually visited his homeland after gaining residency here should lessen that concern. As New Zealand First leader Winston Peters says, there is plenty of time for the Immigration Minister to reconsider his initial decision, if he now chooses to do so.
IMO we should be pleased that we have an Immigration Minister willing to err on the side of caution when it comes to potentially life and death decisions. In the past, National and Labour governments alike have popped people onto planes back to Saudi Arabia and India and elsewhere with little apparent concern about the consequences.
Interestingly, this incident is being reported in the Opposition's terms as an issue of incompetence, not misplaced caution. That could be because it fits a familiar stereotype. All evidence to the contrary, left wing governments are commonly alleged to be poor managers, not to be entrusted with running the economy. It boils down to this kind of sentiment.
The only true arbiters of optimum performance, as Matt Yglesias once said ironically, are Tory men and Whig attitudes. Reality, which has a well known liberal bias, begs to differ. In fact, it was centre-left governments that rescued the US and the global economy from the Depression, and from a GFC caused by the de-regulatory zeal of centre-right governments.
But hey, the stereotype dies hard. There was only grudging recognition here, for instance, when the coalition government passed its first year in office milestone without flying apart or collapsing into warring schisms, as direly predicted. It still seems safe to assume though, that any crumb of evidence supporting the "poor managers" thesis will be seized on again, in future.
The lesson for Lees-Galloway is about transparency, not competence. He should have been entirely open about the reason (presumably humanitarian) for his original decision. Sure, those grounds could have been used later by Sroubek's defence team before the Immigration and Protection Tribunal, which has been cavalier before about the risks facing deportees. One can see why Lees- Galloway would have wanted to pre-empt that from happening. Now he can openly change his mind, and with less fear about the repercussions for the person who had seemed to be at risk.
Media vs Trump
On the brink of the midterms, the US media is still grappling with how to prevent the news agenda from being manipulated by the White House. Thanks to media playing its traditional role of holding the powerful to account, it is now being demonized as 'fake' and as an 'enemy of the people'. Online, the "don't feed the trolls" maxim is widely seen as the best response. It has been less easy for the US media to do so when the alt right troll in question is the US President.
Last week provided a few classic examples of the media's dilemma. In the wake of the bad publicity from the Pittsburgh synagogue shootings, Donald Trump not only tweeted that journalists were the 'enemy of the people' but said that hey, he was thinking about issuing an executive order to scrap the constitutional provision that children born in the US have an automatic claim to citizenship.
As Ezra Klein pointed out on Vox, Trump's lies are calculated to inflame his supporters and provoke his critics into responses that confirm his martyr status as a Washington outsider – even while he enacts policies on behalf of the one per cent. Those policies get little coverage, because of the firestorms being generated by his outrageous behaviour. As Klein says:
Trump uses Twitter to create spectacle on social media, deploys catchy and unusual frames ("FAKE NEWS!" "the true Enemy of the People") that sympathizers can search for to find supporting evidence or fellow loyalists, and then uses the media's aggrieved or simply truth-telling reaction to paint himself as a victim of endless media bias…. The media then reacts in the only way that makes any sense given the situation: We cover Trump's statements as outrageous and aberrant; we make clear where he's lied or given succour to violent paranoiacs; we fret over the future of the free press. And then Trump and his loyalists point to our overwhelmingly negative coverage and say, "See? Told you they were the opposition party."
In other words… on a daily basis, the media is being played by a sustained and expertly calculated form of trolling:
Trump, in other words, manipulates the media using the same tactics as a run-of-the-mill alt-right troll, and for much the same reason: he wants the media to fight with him so he gets more coverage and shows how biased they are against him. He wants the media to fight him because that drives attention to the things he's saying, to the conspiracies he's popularizing, and to himself. Going to war with the media nets Trump much more coverage than giving a speech on manufacturing policy or tax cuts.
The problem is not just that the media has been playing into his martyr role. By reporting his lies, the media is also disseminating them, as if they were true. (The subsequent fact-checking commonly gets lost in the backwash.) Repeating what the outlandish guy says and hawking at his outlandishness, as Matthew Yglesias says, isn't working. Mainly because, he adds, ignoring politicians when they make sensible remarks on substantive issues (because they're boring) while endlessly re-broadcasting baseless smears and outrageous lies has created a terrible incentive structure.
The birthright lie
The response to Trump's 'birthright' claim has been a classic of the genre. According to Trump, US policy on this issue is exceptional. "We're the only country in the world where a person comes in and has a baby, and the baby is essentially a citizen of the United States," Trump told Axios on HBO in an interview… "It's ridiculous. And it has to end." Except that in reality, the US isn't the only country in the world that does so, not by a long shot:
The citizenship standard known as unrestricted jus soli exists in Canada, the United States, Mexico, Chile, Argentina, Brazil, Jamaica, Barbados, and about 30 more countries, almost all of them, like the ones I named, located in the Western Hemisphere.
So while it's true that unrestricted jus soli is a minority stance for countries, the United States is basically following the practice of all our neighbours. What's more, some countries that don't have unrestricted jus soli come pretty close. A baby born in Australia is an Australian citizen at birth if either of their parents is a citizen or legal permanent resident. And a baby born in Australia who doesn't meet that criteria becomes a citizen at age 10 regardless of immigration status if he's still in the country.
Gosh, a deliberate presidential lie. Moreover, Trump was claiming the ability to overturn the 14th Amendment to the US Constitution that guarantees that birthright, merely by presidential decree. That's not true, either:
Trump was proposing to change constitutional law through an unconstitutional mechanism, and was doing so on the basis of a factually incorrect statement about American uniqueness. But what happened? Tons of media outlets simply tweeted Trump saying something untrue. It's a no-brainer to not do this.
When a public official makes a material misstatement of fact, you might want to do a story about the fact that he is lying or confused or ignorant or whatever you think is going on. But you don't just relay the misinformation in your social media copy and headlines.
So…the media response has to be to filter, to downplay and ( if need be) ignore Trump's lies, and thereby starve his ability to set the news agenda. Sure, running more stories about the effect of Trump's policies on his supporters may not be as clickworthy as his provocations, but it's really the only way to go: don't feed the troll.
Highway '74, Revisited
Bob Dylan made two attempts at recording Blood on the Tracks – at initial sessions in New York City in September 1974, and in December the same year in Minneapolis. Five of the tracks on the final album ("Tangled Up In Blue" You're A Big Girl Now," "Idiot Wind' "Lily, Rosemary" and "If You See Her Say Hello") came from the sessions recorded in Minneapolis.
The NYC versions are the centrepiece of More Blood, More Tracks, a six CD set of out-takes, revisions and asides that is the latest offering in Dylan's massive Bootleg Series of albums. Sure, you may think that you don't need to own 12 different versions of " You're Going To Make Me Lonesome When You Go," or nine versions of "Idiot Wind" but look at the upside. With this set in hand, you can finally create your own best version of the all time greatest break-up album.
Dylan himself seems to have been open to suggestion. Reportedly, he concocted an entire album of final takes from the NYC sessions and played it for his brother David Zimmerman – who convinced Dylan that the album was just too stark to be commercially successful. (This was before Bruce Springsteen's Nebraska made a virtue out of musical/emotional desolation.) Reportedly, David Z. then assembled the musicians used on the Minneapolis tracks. Few would claim those re-recordings were a mistake. Yet in this instance, Dylan seems to have succeeded in painting the Mona Lisa twice.
This spare, unfiltered NYC version of "If You See Her, Say Hello" speaks for itself. IMO, the entire verse that begins "If you're making love to her/kiss her for the kid…" is superior to the more distanced lyrics he recorded in Minneapolis.
Ditto in spades for this NYC version of "Idiot Wind." By the time Dylan got back to Minnesota, he'd decided to turn the song into one of his steamrolling epic numbers. As a result, the vindictiveness and blaring self-pity all but overwhelm the visionary ways the song visits and revisits and rolls around in its lashings of anger, passion and regret. Without taking sides 40 years later in the Dylan v Sara Lownds break-up, listeners to " Idiot Wind" may care to recall that the final trigger for that marriage meltdown seems to have been Dylan's very public affair with Columbia A&R executive Ellen Bernstein. Shelter from the storm, sure…but one largely self-created.
The NYC version I've chosen makes "Idiot Wind" feel more balanced. The arrangement is comprised solely of Dylan's guitar and harmonica with Paul Griffin adding some crucial billowings of colour on Hammond organ. (Griffin is an unsung figure. He'd played on classics like the Isleys' "Twist and Shout", Dionne Warwick's "Walk On By" Don McLean's "American Pie" and the Shirelles "Will You Still Love Me Tomorrow" as well as providing the lovely atmospheric piano on Dylan's "It Takes a Train to Cry", "Queen Jane Approximately" and "Tom Thumb's Blues…") Basically, this particular NYC version still contains plenty of the familiar romanticism and bile, but the song's passion feels less toxic.
Of course, you can argue with hindsight, that it is this very mixture of romantic mythologizing, bitter resentment and self-pity that made the breakdown of that marriage – or any break-up you care to name – seem utterly inevitable. Which is part of what makes Blood on The Tracks endlessly relatable.