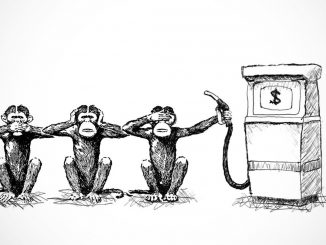 As petrol gets more and more expensive, Auckland motorists have several things to blame for it – the slumping value of the Kiwi dollar, Donald Trump's sanctions on Iranian oil, hurricanes in the Caribbean…But it is simpler and feels better to lay all the blame on the regional fuel tax, which oh yeah, got introduced to pay for ways to relieve Auckland's road congestion, which everyone hates as much or even more than the fuel tax, right? Doing nothing wasn't an option – or was only an option for the National government, which made an art form out of inertia.
What's up with the global price of oil? Unsurprisingly, there are several scenarios out there about where oil prices are headed. Most of them envisage the price going up – maybe even way up – over the next 18-24 months, starting about now. Only a few analysts say "down" and there's a rapidly diminishing cluster of optimists who believe that oil prices will stick roughly around where we are right now. But why should we be blaming Trump for any of it?
Because… on November 4th, US sanctions against Iran will remove between 1 to 2 billion barrels a day of Iranian oil from the global market, creating a scarcity likely to cause a sharp increase in oil prices. How big will this price spike be? The BBC is being told there's a "real risk" the Iran sanctions could move the price for Brent Crude from the current $80 to $100 a barrel.
A couple of weeks ago, this analysis had it going even higher, all of it being driven aloft by Trump's obsession with Iran:
Considering the low spare capacity for a quick ramp-up of production elsewhere, some hedge fund managers expect oil prices to jump to as high as $150 a barrel in 18 to 24 months. "Our view is that by November 4, we will have lost between 1.3 and 1.4 million barrels [of output] a day. It is a very big number. That's based on the view that the U.S. will allow a few temporary exception waivers," Jean-Louis Le Mee, CEO at London-based Westbeck hedge fund told Reuters. "Ultimately, we could see losses from Iran exceed 2 million barrels a day," Le Mee said.
The White House desire to punish Iran economically is occurring at a time when the world's spare capacity (to make up the Iran shortfall) is sitting at historically low levels. US oil reserves have been recently drawn down, and the Saudi spare capacity can fill the gap for only a very limited period of time:
According to Pierre Andurand, who manages the US$1.2-billion Andurand Commodities Fund, the world's spare capacity is at its lowest ever, and this will be a real issue with global oil supply.
Replying to one of President Trump's tweets blaming OPEC for the "too high" oil prices, Andurand said in mid-June that "OPEC has the lowest spare capacity ever right now. There is going to be a real issue. Prices will be above $150 in less than 2 years. Eventually higher prices will bring more supply. But right now too little supply is coming over the next few years, despite US supply growth."
Regardless, the optimists say that there's nothing much to worry about in the short term because hey, the Iranians – with the help of China and Turkey and various petro-yuan and EU banking subterfuges, and with China maybe buying Iran's entire annual oil output – will somehow get the Iranian oil to market, despite the US sanctions. Even so, that would only postpone the crisis in supply, and the coming oil price escalation :
As for global spare production capacity, it ranges between 2-3 mbd of which Saudi Arabia claims to have 2 mbd. However, the Saudi spare capacity is not one resulting from Saudi ability to ramp up production by 2 mbd above current levels but is merely dipping into its stored oil on tankers and on land. Once the stored oil is depleted, there will be no capacity whatsoever. The world could face an oil supply gap by 2020. There will be a need for 15 mbd of new oil to meet growing global ol demand and to offset an annual depletion rate estimated at 5% or 4.8 mbd, equivalent to the oil production of Iraq.
Failing to provide new supplies of oil by 2020 could lead to oil prices surging far beyond $100 a barrel.
Yesterday, the UK Financial Times reached pretty much the same conclusion. Of course, the Saudis have long functioned as the West's bailout mechanism whenever oil prices rise to the point where they threaten to tip the global economy into recession, but – as mentioned above – the Saudis are close to running on empty this time around, and will be dipping into stored oil ; and once depleted, that will be gone for good. Nor is North American shale production going to save the day, either. Here's how the FT summed up the situation yesterday:
Separately, the US Energy Information Administration said it forecasts domestic crude output to rise by 840,000 barrels a day to 11.5m b/d next year. This is lower than the just over 1m b/d rise to 11.7m b/d it had initially expected. The US shale boom has paved the way for production to reach more than 10m b/d but drilling in the Permian Basin in the south-western US, a key oil hub, has started to slow due to limited pipeline capacity for evacuating the oil.
Oh, and the FT added its own concerns about the impact of Trump's attack on Iran's oil exports – which could end up with New Zealand motorists being part of the collateral damage, as petrol prices ramp up. Here's thre FT again :
Oil market watchers have also been keeping an eye on impending US sanctions on Iran's energy sector, which is expected to hit the country's crude exports and could see the broader market facing a crunch. Saudi Arabia and its peers inside and outside of the Opec cartel are raising production more slowly than expected, also raising questions about available crude supply when the sanctions officially come into effect in November.
So, while it is politically convenient to blame the regional fuel tax… given this looming situation of scarcity and rising oil prices, the regional fuel tax is going to be the least of our petrol price problems, over the coming months and years. And if it pays for measures that reduce congestion, the savings will come just in time.
NZF, the Multinationals' Friend
Its not unusual for New Zealand First to put its own political interests – and survival – ahead of everything else. From here until 2020, NZF needs to look as if it is something other than a passive enabler of Labour policy. (The Greens have yet to wake up to this necessity.)
That's MMP politics, not a crisis in governance. In other countries, the coalition dynamics of policy announcements leading to publically expressed disagreement leading to compromise are just political business as usual. In New Zealand though, given our conflict aversion and our timidity about expressing disagreement openly… goodness gracious, it gets treated as a calamity.
Even so, while quibbling over the industrial relations reforms this week and posing as the best friend of small business, Regional Development Minister Shane Jones did choose a very unlikely firm to champion on RNZ: Basically, Jones asked us to consider the plight of JNL, aka Juken NZ, which is the Japanese owned multinational giant that has just cut 100 jobs in Gisborne (in response to diminishing demand in the Japanese housing market) and which is about to do much the same to the workforce at its board mill in Kaitaia.
None of this has been a product of local union militancy. Moreover, the "threat" posed by multi-employer contracts is the least of the concerns for the workers in the firing line – but if Jones and NZF now want to go to bat for foreign multinationals who have been buying up our forests, then so be it. Even so, if NZF wants to market itself as being the champion of small business, maybe it should start by finding a small business to champion.
Dollar Declines
A small point… you could think we were still living in the early 1990s, given how the decline in the value of the Kiwi dollar is invariably presented as great news for exporters, and thus great news for all of us, too. Well, it isn't. It is also a socially regressive trend which leaves most of us paying more for things like petrol and other imports. It is great for foreign tourists – we're increasingly a cheap location – but terrible for any New Zealander wishing to travel.
A declining dollar also imports inflation, which we eventually pay for with higher interest rates. It also makes it harder to attract skilled foreigners, because our relatively low wages will now be worth even less, offshore. Finally, even our exporters will now need to pay more for the imported components required to make some of the things they export. So can we just can dial back the chirpy reportage for a while?
Longer term… the sinking dollar against the greenback is also bad for business innovation. If exporters can get a free payday from a decline in our dollar – hey, do nothing and more money still rolls in – where is the motivation to find new ways to compete? Back when the dollar was higher, firms had to innovate to survive. Yet already, our business sector claims to feel " pain" when the NZD sits at 70 cents against the greenback. It is now at 65 cents and headed south. Do we really need a 35% edge on the USD, and a 10% advantage over the Aussie dollar, in order to be able to compete? Unfortunately, it our captains of industry really do seem to need that kind of head start.
If you felt so inclined, you could blame Trump for some of this as well. By triggering trade wars, dishing out lavish tax cuts, and causing the Federal Reserve to raise interest rates to put a brake on the subsequent inflationary pressures, the Us has sent investors flocking to the greenback, pushing it upwards and thereby creating massive instability in emerging markets – and those markets comprise half the global economy and have been the sites of much of its recent growth.
In time, this process is bound to make US exports less price competitive – but when that happens, chances are it will only encourage Trump to become even more belligerent.
Kilo Kish, multi-media threat
Young as she looks, Kilo Kish is six years into a highly visible rap career that besides her own music has included collaborations with the likes of Gorillaz, Vince Staples, Syd of the Internet, Saba, Chance the Rapper etc while she also models, designs clothes, does art installations and runs a fashion blog. This track " Elegance" is from her new Mothe EP – it's a goofy, night-on-the-town epic that looks like it has been shot around Shibuya, in Tokyo. Her murmured, emotionally fragile vocals and drifting song structures are very reminiscent of what FKA Twigs was doing a few years ago, although "Elegance" is more lightweight, and less creatively intense:
A few hints of the art installation that accompanies the Mothe EP – apparently, you can remix the EP and collaborate with her in the process – can be accessed here. Youtube also has a fan video of the experience… And the video game interface can be glimpsed at her website here.
Finally, here's the Mothe EP in its six track, 23 minute entirety…