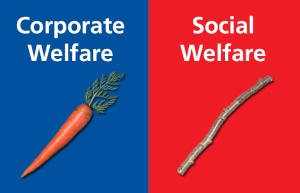 So the old saying goes, the main difference between the centre-right and centre-left is that both believe in market solutions, but the centre-left spends a lot more time worrying about the effects, afterwards. (If only market capitalism could be nicer to people.) Welfare policy is a useful case in point. Earlier this week – after another totally objectionable example came to light of MSD acting badly towards one of its "clients" – PM Jacinda Ardern was moved at Monday's post-Cabinet press conference to call for a change in the culture of welfare delivery:
These kinds of decisions have huge ramifications for people and their lives, and what we need to do is make sure that we have a service that really puts people at the centre—that, yes, is comprehensive, of course makes sure that we're following all of the expectations that we have as a Government, but, ultimately, treats people respectfully…
Unfortunately, changing the "culture "is not the same thing as changing the rules. In practice, it boils down to much the same policy being more politely executed around the edges, where there is (theoretically) a bit of room for discretion. Reportedly, Social Development Minister Carmel Sepuloni will be announcing (in about a three or four week's time) her plans for an overhaul of the welfare system:
The government isn't going into details about just how far the overhaul – which was promised as part of Labour's confidence and supply deal with the Greens – will go, but it will look at removing excessive sanctions, ensuring people get access to what they're entitled to, and reviewing Working for Families.
Yet as Child Poverty Action Group Susan St John told RNZ yesterday, an immediate response is not only called for in the meantime, but is entirely possible for a government that truly accepts the need for urgent remedial action. As she indicated, the coalition government can choose to act right now – for example – to stop benefits from being cut as soon as beneficiaries enter into a relationship – a policy that ignores the negative impact this is likely to have on the durability of that relationship, and is pursued despite the absence of research evidence that living costs will be significantly lower for the individuals affected.
The cutting of benefits for women who do not name the farther of their child could also be scrapped overnight, pending the upcoming review. Supposedly, women who take the risk involved in naming will be protected from revengeful violence by the men thus made liable for child maintenance. Lets just say that WINZ, overall, hasn't earned a level of trust that's likely to convince many women at risk that this protection would be there when it was needed.
Thirdly, the earned income level at which benefits abate can (and should) be immediately restored to at least where things stood before National's 2017 budget – which not only lowered the ceiling (to $35,000) at which earned income by beneficiaries eroded their Working For Families entitlement, but also made that abatement occur more rapidly, from 22.5 cents in the dollar to 25 cents. Supposedly, such changes were meant to reduce the incidence of so-called "middle class welfare." Yet for some vulnerable families in need, National's Budget bean-shifting last year either snatched back the headline increases made to WFF, or actually made some families worse off.
Again, Labour doesn't need a working party to deliberate for six months to devise ways to make WINZ act more humanely. It could begin the process right now, by acting more humanely itself.
Birthdays, Due Dates
Earlier this week, PM Jacinda Ardern casually mentioned her intention of working right up until her due date, June 17 – which means that, in all likelihood, she will be on deck and steering the government through any troubled waters it might encounter, post Budget. Labour should be very relieved about that prospect.
Timing is all. If Baby One does happen to arrive on its due date, this would mean the Ardern/Gayford offspring will be sharing its birthday with the most coolest, most significant musician on the planet right now, Kendrick Lamar – who is now set to be playing gigs in Auckland, and in Dunedin in mid July. Tickets available from Monday.
Camp Cope, here, now
Talking of unmissable gigs, the terrific Melbourne trio Camp Cope is playing the Whammy Bar tonight in Auckland and Caroline Bar in Wellington on Saturday. I've been featuring CC in this column since 2016, and have linked more than once to "The Opener" cut from their new album. It'll be fascinating to hear what some of the new material ("Sagan-Indiana," "Anna" and "The Face of God" in particular ) sounds like live alongside the older stuff.
Initially a few of the tracks on the new album had seemed more like a Camp Cope tribute band than the real thing…and that's just a reflection of the risk that overtly political bands like this can run. (Righteous fury can readily sound rote, and more like a schtick.) Overall though, Maq remains the fearless, storming heart of this band, and she and her mates will be compelling on stage, especially in venues as small as these. For newbies, here's "The Opener" again in a live version recorded at Sydney Opera House. Its proof positive of how useful anger can be as a motivational tool, in art and politics alike…
For old school fans, here's a live version (from mid last year) of their classic "Keep Growing" …
Finally, and as a further example of Maq's fearlessness, here (from 2016) is her version of the Yeah Yeah Yeahs career-defining track "Maps" – a song so indelibly linked to Karen O that only a brave soul would dare try to cover it…