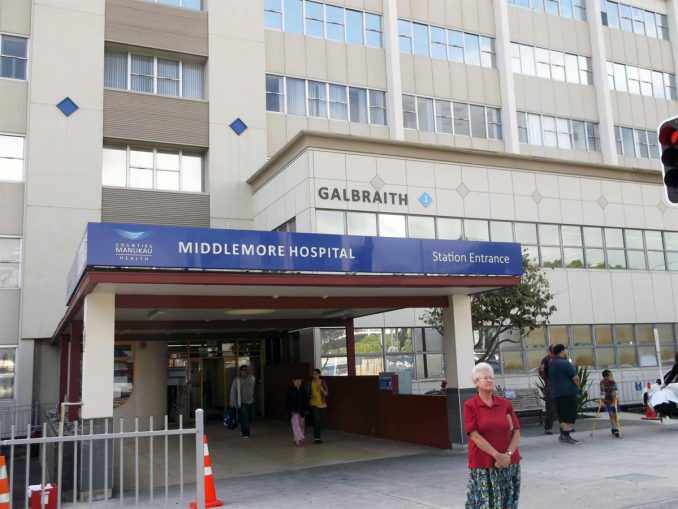 Week by week, the sheer scale of the neglect to crucial social infrastructure by the Key/English government becomes apparent – and with it the size (and expense) of the problems they've left behind, for the Ardern government to somehow address. The mouldering walls and the decaying electricity and sewage systems at Middlemore Hospital serve as a perfect symbol of the dilapidation that's been fostered by pressure to meet the political goals of budgetary constraint. All of it done so that John Key and Bill English could brag about being capable managers, who kept expenditure under control – as if balancing the books was an end in itself.
Meanwhile at Middlemore, the necessary investments in maintenance were being deferred – as they have has been in DHBs all around the country, in order to prop up the illusion of competence by a government always far more interested in delivering another round of tax cuts, if it possibly could. It didn't want to hear bad news. Its managers in public health heard that, and obeyed orders.
Since National changed leaders, the same illusion has been perpetuated by Simon Bridges, who cited National's claim to be "good economic managers" in his first statements as leader. If there is any justice, the decrepit state of Middlemore Hospital should return to haunt Bridges during his tenure, and throughout the election campaign of 2020. As CTU economist Bill Rosenberg recently pointed out in a detailed demolition of National's claims to economic competence, fiscal management ( which entails managing the government's finances) is not the same thing as managing the wider economy for the benefit of the general public :
The business media have typically assumed that 'good fiscal management' is simply holding down spending, balancing the budget and reducing debt. But it is hardly good management to hold down spending if in the real world people can't find jobs, or cannot afford acceptable housing or are living in poverty or can't get the health care they need. Similarly 'good economic management' is not just strong GDP growth. It is hardly good economic management if GDP is growing, but the income is not fairly spread or growth is in areas that provide a poor basis for future development, or creates growing environmental degradation.
In office, National simply chose to go M.I. A. when it came to those wider, more difficult tasks. Belatedly, we are now waking up to the realities of what nine years of absentee government (and related neglect) has delivered to us.
Managing expectations
Were National, as Bridges has been claiming even this morning "strong economic managers in difficult times?" Hardly. In assessing Bill English's track record in office, Rosenberg gave him credit for sensibly using debt financing to soften the impact of the Global Financial Crisis and the Canterbury earthquakes. Yet from then on, ideology took over:
[National's] 2010 tax cuts were inappropriate in a recessionary economy with high levels of inequality and poverty. National used the crisis and a supposed excessive debt level (even at its peak, still much lower than most countries in the OECD) to justify a programme of spending cuts for its entire period in office. It put off spending in a host of areas that would inevitably come home to roost on a future Government including in Health, Superannuation, Education, Housing, Poverty, Environment and Conservation. This is not responsible fiscal management: it is turning a blind eye to the future.
Exactly. In that respect, Middlemore Hospital is not an anomaly. It is the virtually guaranteed outcome of a policy whereby public health was systematically underfunded by National – in that since 2010, the public health system has received a declining share of the country's GDP. Year by year, DHB managers were expected to hold down unrealistic budgets, so that their political masters could sustain the pretense of economic competence for as long as possible.
As for the other measures of National's achievements on the economy, while in office? As Rosenberg points out, average GDP growth has been lower in the past decade than in the 2000s. Also, worker productivity has fallen. What about exports? Surely a National government excelled in that area? Not so much :
National set a target of goods and services exports
rising to 40 percent of GDP. It had a target of
signing commerce ('free trade') agreements with
90 percent of the world's economy, ostensibly to
boost goods and services trade. Instead, exports as
a proportion of GDP have fallen back to 1988
levels (26.2 percent on average in the year to
September 2017; 26.0 percent in 1988. It was 30.5
percent in the year National took office, 2008).
This is despite the good luck of record high terms
of trade (prices received for exports relative to
prices paid for imports). Just as concerning, the highest value-added export goods, "elaborately transformed" manufactured goods, fell to 13.9 percent of total goods exports in the year to September 2017, from 18.3 percent in 2008 and a peak of 22.7 percent in 2005.
Sure…we should make some allowance for National needing to paddle its canoe through some difficult global waters, post GFC…but even so, there is little or no evidence to support the contention that National managed the economy soundly during its term in office. It muddled through at best, and has left behind a mountain of unmet need. All it did succeed in doing was to hold down spending – and in the process, it kicked some very large problems down the road for its successor to find a way (and the means) to deal with them.
Laughing stocks
According to Simon Bridges, New Zealand is being ridiculed for its desultory support for Britain, in the wake of the Russian nerve agent attack.
That left New Zealand as the only member of the Five Eyes intelligence network not to throw out Russian staff, raising eyebrows at home and abroad.
"We are being laughed at in the international media," opposition leader Simon Bridges told reporters on Wednesday. "And the reason for that is that other countries, our best friends around the world, are taking a really principled stance on this and we haven't."
To be sure, the inability of our security services to detect a spy among the Russian diplomatic corps in this country does have its comic elements. Yet if Bridges is sensitive about how the international media is snickering about the present government, he needs to be told about how it is laughing out loud about the previous one. Here at home, last week's furore over Carol Hirschfeld's resignation from RNZ has overshadowed the Human Rights Tribunal's award of $90,000 of taxpayer money to Kim Dotcom, as compensation for the actions taken against him by the previous Attorney-General, Chris Finlayson. Here's how the international media reacted to that news:
It's really quite incredible how, at nearly every turn, the New Zealand government has managed to mess up the legal case against Kim Dotcom. The raid on his house was later declared to be illegal, using invalid warrants. Evidence that was seized from his home and illegally turned over to the FBI was ordered to be returned. Oh, and then there was the whole bit about conducting illegal surveillance on Dotcom, deleting evidence of that illegal spying, and ordering officials to "bury" information about that illegal surveillance to avoid embarrassing the Kiwi government. And now we have the latest: A Human Rights Tribunal in New Zealand has declared that the New Zealand government violated Dotcom's rights in withholding information from him.
Including these choice details:
Specifically, in July of 2015, Dotcom had made an information request (in New Zealand it's an "information privacy request" which appears to be a quasi-privacy/data protection-type right in New Zealand) to various officials in the government requesting whatever personal information they held on him. The recipients of the demands sent them to the Attorney General, who refused to comply with the demands, claiming they were "vexatious and included information that was trivial."
The Tribunal disagrees. It goes through, in pretty great detail, the procedural issues at play here, including an attempt to discover this information by way of his extradition case, which was denied by the court. But that still left open the information privacy request. The court then goes through the question of whether or not it was even appropriate for everyone who received the request to hand them over to the Attorney General. This is done in almost excruciating detail…. the tribunal sums up the issue by basically pointing out that the recipients of the request were not supposed to transfer those requests to the Attorney General in the first place, as they had no legitimate reason to do so under the law…
Even before getting to this point…
The tribunal actually notes that if anyone seemed to be focused on "disrupting" the extradition hearing, it was the New Zealand [National] government, listing out the various things the government did, including:
• unsuccessfully applying to revoke his bail when his then solicitors and counsel were granted leave to withdraw.
• unsuccessfully opposing the release of restrained funds for living and legal expenses.
• unsuccessfully opposing an adjournment of the eligibility hearing scheduled for 2 June 2015.
• applying to register in New Zealand the USA forfeiture order obtained in that country on the basis of a fugitive disentitlement doctrine, a concept unknown to New Zealand law. If successful, this would have meant that Mr Dotcom would have no funds to live on, let alone to defend the extradition proceeding.
• unsuccessfully opposing, and seeking to strike out, Mr Dotcom's judicial review of the decision by the Deputy Solicitor-General (Criminal) to authorise the Commissioner of Police to register the USA forfeiture order.
• refusing, until 23 June 2015, to respond to the legitimate concerns as to funding for New Zealand counsel raised by counsel for Mr Dotcom on 29 April 2015.
And so on….Oh, and here's the Reuters story on the Tribunal ruling.
In sum, it appears as though the last National government was no better at respecting the laws of this country than it was at managing the economy…
Napalming Middlemore
Talking of spies…Anais Nin's 1954 novel Spy in the House of Love has inspired any number of musicians down the years, including Steve Winwood, the dbs and Animal Logic. As a metaphor for marriage, it is an interesting one.. From the 1980s here's a live performance by the neo-funk outfit Was Not Was, and their take on the title concept:
Finally, and talking of neglect at Middlemore and elsewhere…Napalm Death, one of the favourite metal bands of Indonesian President Joko Widodo ( a recent visitor and renowned metal head) dealt with that kind of issue on their 2001 track " Volume of Neglect…."
Speculate freely
Begrudge me intensely
Lacking a conscience
Lacking intelligence
Lesser than nothing
Lower than everything
As you drain our vitality
To a mundane reality
A form of therapy
Without compensation
A vague psychology
Free from obligation…etc