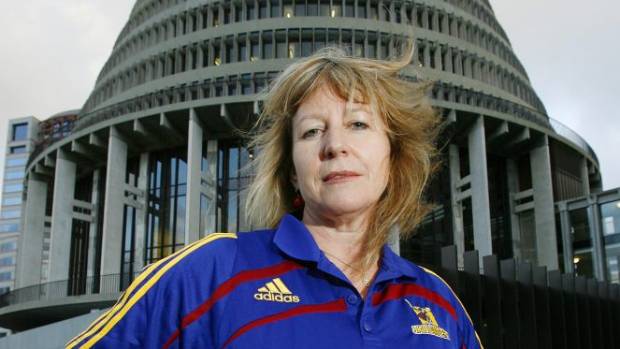 Now that the initial shock of Carol Hirschfeld's resignation has worn off, we're getting to the sharp end of the RNZ story. Why did Broadcasting Minister Clare Curran initiate – via an exchange of texts an hour long meeting with RNZ's head of news at Astoria Café on December 5, and diary it merely as " CH Astoria?" Under subsequent parliamentary questioning, why did Curran fudge the existence/rationale for the meeting for as long as she could?
Finally – when faced with the fact that RNZ chief executive Paul Thompson and board chairman Richard Griffin had inadvertently mislead a parliamentary select committee on March 1 – Curran threw Hirschfeld under a bus by quietly contacting RNZ and contradicting Hirschfeld's cover story for the meeting that Curran herself had improperly initiated. Talk about betraying your sources.
Looking ahead, how can Curran expect to work credibly with RNZ's current leadership in future, when all the evidence suggests she had been actively trying to drive around them? Even if, in the coming days, Curran is forthcoming about the purpose of the December 5 meeting and the content of what was discussed, all of the subsequent funding decisions regarding RNZ in the May Budget will be under a cloud – in that the public has been given some reason to suspect they could well have been cooked up by the Minister working in concert with a RNZ employee who was acting (quite possibly) without the knowledge or consent of her bosses. That doesn't look like a sustainable situation. The fact that Curran moved to correct the March 1 statements by Thompson and Griffin was too little, too late – and it smacked of Curran trying to cover her own tracks.
At this point, we still have to speculate as to the raison d'etre for the December 5 meeting – which, perhaps not co-incidentally, was occurring at a time on the Wellington political calendar when bids for the May Budget begin to take final shape. Here's the thing : one of the plausible explanations for the initial secrecy is that Curran could have been exploring how to deal with a rift within RNZ as to how the extra funds it stands to receive in the May Budget should be spent. Keep this in mind :
Labour said in its manifesto that it would transform RNZ into a "truly multi-platform provider" that would include a " free to air non-commercial television service." Broadcasting Minister Clare Curran said in November that meant RNZ would provide " at least one free-to-air linear, non-commercial television station." But Griffin told Parliament's Finance and Expenditure select committee [on March 1 ] that it was not its vision that the newly dubbed RNZ+ would look like a television channel.
"Not its vision." That certainly looks like a rift. If Curran wished to pursue her vision of RNZ + (and the circa $38 million funding boost in the May Budget that would make it possible) one can see why Curran would have considered Hirschfeld to be a potential ally – if only because of (a) Hirschfeld's role in developing RNZ's digital strategy, and (b) her prior career links to RNZ's John Campbell. Hirschfeld was Campbell's producer long ago at TV3, and had supported his move to RNZ. Campbell might reasonably be expected to play a leading role in any further transformation of RNZ into a televisually-led digital platform. At the same time, one can also see why Thompson and Griffin might have felt reluctant – given the less than stellar viewing figures being recorded on Checkpoint for RNZ's initial foray down this road – about putting so much of RNZ's long-delayed bounty into this particular basket.
The faithful and long-suffering RNZ audience would share their concerns. As Werewolf argued back in mid – December :
The supporters of more funding for RNZ are going to have to fight very, very hard to ensure that the circa $38 million mooted for RNZ (by Labour, during the election campaign) will actually be spent in those areas where the organization has suffered the most, during the grim years of belt-tightening. Because on Curran's plans at 7.12 into this clip the majority of the extra money will not be spent on replenishing the radio newsroom – or on restoring the network of regional radio reporters, a system of national coverage that has been gradually stripped back to where it is now but a shadow of its former self. Apparently, the bulk of the new money is going to be poured into Auckland, to build a non- commercial television station, currently dubbed RNZ +. Meanwhile, TVNZ will continue to exist separately alongside it, as an entirely commercial operation.
Could be wrong, but I don't think a new TV station in Auckland is quite what RNZ's loyal supporters (who have stuck with state radio through its lean times) had in mind when they prayed to the Good Lord to deliver state radio from the funding wilderness. Chances are, they were wanting a better resourced and fighting fit version of what they have treasured in RNZ down the years. Namely: more radio journalists, a better-equipped radio newsroom, and more voices and reportage from around the regions. But that's not what they're likely to get. Come the Budget in May, the full extent of the diversion and concentration of those added resources into Auckland's RNZ+TV station – and the leftovers for state radio – will become apparent.
Well…by March 1 at least, the RNZ CEO and board seemed to share the same sort of misgivings. It is not clear what happens next. Given that the brakes have been put on the RNZ+ TV station, where does that leave RNZ's entire digital strategy? More to the point, where does it leave Clare Curran, now that the pet project she had formerly been touting as the jewel in the crown of Labour's broadcasting policy, has been put on the backburner?
In the coming days, RNZ is due to release its business plan. When it does, the public will have a far clearer idea about where RNZ thinks it is heading. As early as tomorrow, Thompson and Griffin will reportedly be back before the select committee to verbally correct their March 1 testimony. We may get further insights into RNZ's future business plans during that appearance.
Curran's Job
For Jacinda Ardern the more pressing question is whether Curran should keep her job. Having seen her broadcasting minister improperly initiate a tactical encounter with RNZ staff who might further a policy mix that RNZ leadership appears to resist – can Ardern continue to allow Curran to remain at her post? In other contexts, ministers cite ad nauseam their inability to intervene in operational matters, and their abiding respect for those who call the shots at the helm of the public service. On this occasion, Curran knew full well RNZ's chain of command. Yet there is every appearance that she was initiating communications with sympathetic staff who might be in a position to influence the decisions being made by the RNZ leadership.
If so, that kind of thing is surely a sackable offence. At best, it is hard to see how Curran can work with Thompson and Griffin in future, and credibly front the division of the bounty for RNZ that (presumably) will still be contained in the May Budget.
Footnote One: At the risk of repetition, we need to know in detail what was discussed at the December 5 meeting. "A range of issues concerning the future of media in New Zealand" doesn't cut it. What did Hirschfeld tell Thompson had transpired at the meeting, once its existence became evident in the wake of Melissa Lee's initial questioning in Parliament ? It beggars belief that Thompson would have remained in the dark for long as to what his head of news might have been discussing with the new government – either formally or informally – just as the details of the next Budget round became ripe for serious discussion.
Footnote Two: As the events around the Curran/Hirschfeld meeting unfolded, one can understand why Thompson and Griffin would be upset about being put in the position of inadvertently misleading a parliamentary select committee that the December 5 meeting was accidental, when it had really been pre-arranged. That sort of thing is, potentially, a breach of privilege offence. Thompson must have been especially miffed that – in defence of Hirschfeld at the time – he had even ad- libbed a few exculpatory details.
Thompson said Hirschfeld had been to the gym, and was getting a coffee when she bumped into Curran. " It was hardly a secret meeting," he said. "It is what it was and I certainly don't have any concerns that that interfered at all with our editorial independence." During the same select committee meeting, Griffin described the encounter as " a meeting of minds, in the sense that the Minister walks into a café, saw the head of news sitting there and sat down and talked to her."
Yikes. At the time Curran did not publicly set the record straight, but – as mentioned – did so privately by alerting the RNZ leadership. (Ironically, Curran is also the Minister of Open Government.) Did Curran really clarify the nature of the meeting as soon as she possible could, as PM Jacinda Ardern has claimed? The public, at least, have no reason to think so. They were kept in the dark. Full and frank are really not the first words that come to mind about Curran's responses.
Here's the key February grilling of Curran, by Melissa Lee.